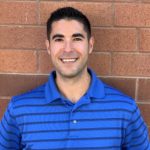 Chiropractor, Dr. Arian Lecuona moved from Chicago to Denver in 2018 bringing his family and pitbull puppy Chico, with him.
He has fully immersed himself in the Colorado lifestyle and thoroughly enjoys hiking, fishing, skiing, and rafting during the weekends. He tries to spend as much time outdoors as possible when not in the office.
Professional Studies
Dr. Arian Lecuona grew up in Boca Raton, Florida and went on to do his undergraduate studies at Florida State University. During his time there, he studied Biochemistry and graduated with a Bachelors of Science Degree. While in Florida, he developed a curiosity and interest in sports based rehabilitation and physical medicine.
Dr. A went on to study at National University of Health Sciences, just outside of Chicago and acquired his Doctorate of Chiropractic. He continued to develop and hone his passion for sports medicine during his time in Chicago. He has a strong interest in the mechanics of movement as they relate to athletics,which was brought on by maintaining a very active lifestyle and participating in many sports such as lacrosse, basketball, tennis, and swimming.
Post-Graduate Experience
Dr. Lecuona went on to become head director and founder of Oak Park Sports Medicine in Oak Park, illinois, where he was involved in both clinical practice and a variety of athletic programs in the Chicagoland area.
While in Chicago, Dr. Lecuona has researched extensively and successfully managed conditions including but not limited to Osteoarthritis, Achilles' Tendonosis, Ankylosing Spondylitis, Post-Surgical Rotator Cuff and Muscle Tear Rehabilitation, Lumbar/Cervical Disc Complications, Muscular and Ligamentous Sprain/Strain, and ACL/MCL/LCL tears.
Dr. Lecuona is now level 1 certified for Colorado level Accredited.
Rehabilitation
 Cervical Curve Restoration
 Scoliosis Curve Correction
 Lumbar Curve Restoration
 Current Rehabilitation Protocols for Shoulder, Hips, Knees, & Ankles
 Sports Taping (Kineseo-taping)
 Passive Therapies: Ultrasound, Inferential therapy, Russian Stim
Active Release Technique
Colorado Workers Compensation Level 1 Accredited