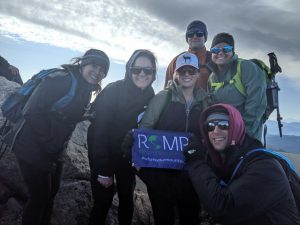 Some of the staff from our Denver Chiropractic Team recently summited Mt. Bierstadt! It's 14,065 feet with a great view!
We raised money for the Range of Motion Project (ROMP) to help give prosthetics to underprivileged kids in central America!
In its first 4 years, thousands of people have climbed worldwide, representing every continent, and raising hundreds of thousands of dollars to help ROMP patients get mobile. Climbing for ROMP allows us to directly translate physical mobility around the world. So when you sign up and go climb, walk, hike, or run, you are helping a ROMP patient take their first steps.
VERTICAL FEET FOR PROSTHETIC FEET!
We are very happy and honored that our Denver Chiropractic Team helped raise money for the Range of Motion Project!
Call us at (303) 647-9196!