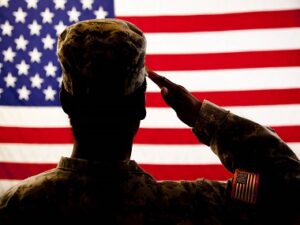 We love to provide safe and natural rehabilitative Chiropractic Care in Denver for Veterans, helping relieve pain and restore mobility!
Veterans frequently visit Chiropractic Solutions of Denver looking for pain relief caused by combat and training injuries, aging, and neuromuscular conditions.
After receiving authorization from the VA and a referral from your primary care physician, our chiropractor will perform a physical examination to understand the cause of your service-related injuries and the extent of physical damage and pain.
The treatment plan we offer is different from patient to patient and will be based on your unique situation. Contact us today and find the relief you need! (303) 647-9196
Drug-Free Pain Relief
First, chiropractic care is a holistic and effective treatment that addresses pains caused by musculoskeletal conditions. Our team identifies and treats joint dysfunctions or spine conditions that restrict your mobility and cause pain.
We address the root cause of the problem, eliminating the need for prescription pain medications that work only to temporarily mask the symptoms.
According to a report by the U.S. Dept. of Veterans Affairs, there are more than 70,000 veterans addicted to opioid painkillers.
Chiropractic care is a safe, drug-free treatment option for veterans who suffer from chronic pain!
Improved Balance & Coordination
Next, coordination and balance are a challenge for seniors and injured veterans. The joints of the neck and spine are key to transfer information between the body and the brain.
If there is a problem with sending and receiving signals in the spinal cord, coordination and balance are affected. Chiropractic Care in Denver helps eliminate joint restrictions and spine dysfunctions, helping improve your stability! Call us! (303) 647-9196
Improved Life Quality
Finally, chiropractic care improves overall health and contributes to your overall well-being. A healthier body means more range of motion, better immune system, stronger bones and more.
As a result, you have more energy and have less or no pain! This enables you to enjoy some of the simple things in life as a civilian, such as gardening and walking.
Visit With Our Team Of Experts
If you are a veteran and suffering from pain due to your military service, visit your closest VA office to determine if you are eligible for chiropractic care.
Our team at Chiropractic Solutions of Denver thanks all veterans for your service and we look forward to helping you get back on track in your civilian life without pain.
Chiropractic treatment is a safe, holistic, effective approach to manage painful conditions affecting people of all ages.
Get in touch with us today for Chiropractic Care in Denver and allow us to give your health a boost! (303) 647-9196