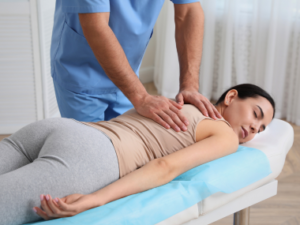 Are you searching for the best chiropractor in Denver to address your health and wellness needs? Look no further! At Chiropractic Solutions of Denver, we pride ourselves on being the top choice for chiropractic care in the Mile-High City. Here's why we stand out from the rest!
Give us a call today to schedule your consultation. 303-647-9196
Collaborative Effort
To start, our elite team boasts a wealth of knowledge and expertise in spinal health, musculoskeletal issues, and holistic well-being. With plenty of years of training and hands-on experience, we're equipped to address a wide range of health concerns.
Personalized Treatment Options
Next, no two patients are alike, so we tailor our treatment plans to suit your specific needs. Whether you're seeking relief from chronic pain, recovering from an injury, or simply aiming to improve your overall health, we'll create a customized plan just for you!
Cutting-Edge Techniques
Thirdly, we stay at the forefront of chiropractic care by embracing the latest techniques and technologies. From traditional spinal adjustments to additional therapies like spinal decompression, we have a comprehensive array of treatments to ensure your optimal well-being.
Comprehensive Approach To Health
Also, we understand that true wellness goes beyond simply addressing the symptoms. We take a holistic approach – considering your lifestyle, nutrition, and exercise habits to help you achieve lasting health improvements. Get in touch with us today!
Patient-Centered Care
Again, our commitment to patient satisfaction is unwavering. We prioritize open communication, actively listening to your concerns and questions. Our friendly and compassionate staff are here to support you every step of the way, making your chiropractic journey comfortable and stress-free.
Proven Results
Finally, we have a long track record of delivering positive outcomes for our patients. Many Denver residents have experienced relief from pain, improved mobility, and enhanced quality of life thanks to our chiropractic care. Don't believe us? Check out our Google reviews!
Choose Chiropractic Solutions
Choosing the right chiropractic team is a crucial decision for your well-being. At Chiropractic Solutions of Denver, we provide the highest quality care to help you live your best, pain-free life.
Discover why we're the best chiropractor in Denver—schedule your appointment with us today and experience the difference for yourself! 303-647-9196