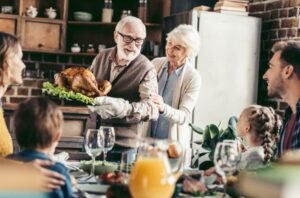 Our Denver Chiropractor knows this season is for spending time with family and friends eating, laughing, and relaxing, but have you thought about how you can protect your back during the holidays?
Some things pose a serious risk to your joints and spine during the season of giving. If you are planning on spending the holidays on the couch, make sure it is because you want to, not because your back pain is forcing you to!
Here are some of our top tips to help protect your joints and back. Give us a call to schedule an appointment! (303) 647-9196
Prepare With Good Footwear
To begin, we know you want to look your best for holiday events like family dinner, but meal prep is not the time to wear high heels or fancy shoes! Choose a pair of supportive and comfortable shoes while preparing your feast.
This simple step will help keep your hips, pelvis, and knees aligned! Shoes with good grip will also help reduce the risk of a slip and fall accident.
Avoid Heavy Lifting
Next, whether you are having a gathering at home or traveling, you are bound to do some heavy lifting this holiday season! It could be from hauling luggage or even lifting a heavy turkey out of the oven.
You want to try to bend and lift at the knees when moving heavy objects. When in doubt, get help from another person!
Contact our Denver Chiropractor today for an adjustment and keep your spine in alignment! (303) 647-9196
Standing Can Strain
Prepping your big holiday meals can mean a lot of peeling and chopping, all while standing. This causes strain and fatigue in your back and legs and can even compress your spinal discs!
Planning ahead will help! Find a stool and do the peeling and other hard work at the kitchen table or counter. This will ease any strains you might be facing. Sweet relief!
Share The Tasks
Finally, you have probably experienced holiday dinners being mostly prepared and cleaned up by one person in the family. Instead of having just one person do everything, delegate some of the tasks!
The older kids can work on prepping vegetables while the little ones set the table. The couch potatoes can set up the buffet line or carry dishes out to the table. When the work is shared, you save your back from fatigue, strain, and misalignments.
Self-Care With Chiropractic
With all of the holiday preparations, try not to forget to take some time for you! Regular chiropractic adjustments will keep your body in healthy shape!
Sneak away from your obligations for a bit and relax with our Denver Chiropractor! (303) 647-9196