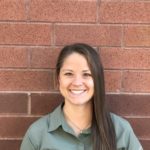 Athletic Trainer, Heather Nosky attended Louisiana State University in Shreveport for her undergraduate studies where she earned her Bachelor's of Science in Community Health with a concentration in Pre-Physical Therapy. After graduating from Shreveport, Heather attended Stephen F. Austin State (SFA) University in Nacogdoches, TX where she received her Master's in Athletic Training in 2015. While there, she completed clinical rotations with all sports offered at SFA, 2 local high schools, an Orthopedic surgeon, and a Primary Physician.
Heather was also able to receive a summer internship with the Houston Dash Women's Professional Soccer team from May to July of 2014. In the fall semester of  2014, Heather began her final year at SFA as the Graduate Athletic Training Student assigned to work with soccer for their season. During this season the team won their fourth conference championship title in four years. During her final semester at SFA, Heather completed coursework to become a Level 1 Certified Graston Technique practitioner.
Work Experience
Upon graduating, Heather accepted a job as the Assistant Athletic Trainer at The University of Mobile in Mobile, Alabama where she worked for 2 years. While in Mobile, Heather worked primarily with the men's and women's basketball and tennis teams, but was able to work with all 17 varsity teams at the school. Here, she was exposed to diagnosing and rehabilitating many different kinds of injuries ranging from acute conditions. She learned how to rehabilitate ACL tears and Lis-Franc sprains, to chronic conditions like patella tendinitis. Also while at the University of Mobile, Heather completed the Level 2 Graston Technique course. She performed the technique through functional movements which helps athletes heal more quickly.
Heather worked at The University of Southern Mississippi as an Assistant Athletic Trainer where she was responsible for the women's soccer and women's tennis teams for 2 full years. Heather often got up at 5am with the women's soccer and worked all day until the women's tennis finished practiced. She loved traveling with the team across the country to visit and play different Universities. Heather is up to date on current concussion protocols consistent with the National Athletic Trainers Association (NATA). While at Southern Miss, Heather often taught classes to students on how translate book knowledge into clinical skills.
This is Heather's first time living in Colorado and experiencing all Colorado has to offer. She is looking forward to hiking as much as she can, learning how to ski and snowboard and return to playing soccer and tennis in her free time. Heather also has a twin brother who resides in the greater Denver area.
Sports Medicine
Master's of Science in Athletic Training from Stephen F. Austin State University
Graston Technique Soft Tissue Mobilization Level 1 and 2
Trained in Rocktape and Kinesiology Tape applications
Rehabilitation
Rehabilitation protocols for shoulders, elbows, quads, hamstrings, knees, and ankles
Trained in diagnosing and rehabilitating concussion patients
Active and Passive Release Soft Tissue Techniques
Passive Therapies including Class IV laser, Electrical stimulation, Ultrasound and Hydrotherapy